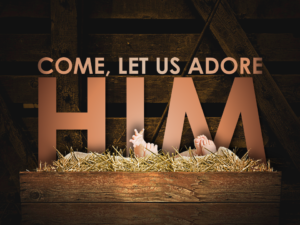 O COME LET US ADORE HIM
                        – CHRIST THE LORD
Donna Milham
 
Fall on your knees –
Hear the sound of humility and humble, holy adoration at the One Who came as us and for us.
Oh, hear the angels chorus –
So that we may join in – with one heart cry– 'on earth as it is in heaven'
Two realms –
One Eternal Song of adoration and awestruck wonder
A fresh glimpse – LOOK AGAIN!!!
All of Heaven declares and resounds
The stars release their song
The moon illuminates the night's sky
As we seek The ONE Who is worthy
Our spirits hunger and thirst
For the very purpose we were created
To worship our Most High God
Divine Night
Night of all nights
Heaven's angels announced
Earth's creation resounded
Creatures watched
In hidden manger
As 'I AM ' came forth
Did the sheep 'bahhh' in response
Or 'bleat' with joy
I wonder did whales breach, eagles soar, lions roar….
Heaven's Response to Creation's Groan
The Last Adam
Born
Of a surrendered womb
'Be it done unto me according to thy word'
No hesitation
A 'yes' of glad surrender
To be – a house
A holy habitation
Of the "SEED OF REDEMPTION"
That Holy Seed
Eternal One
Grew
And came forth
EMMANUEL – THE PROMISE
GOD WITH US
GOD in us
First born – New Creation – New Race
Last Adam
Overcoming King
The angels knew WHO this baby was
The shepherds knew
From Heaven's Holy Announcement
Of Light & Song
Just another night on a hillside
Alone – set apart – watching
And SUDDENLY – GLORIOUS LIGHT
& HEAVEN'S SONG
The Great Scene in the DRAMA OF THE AGES
The Host of Heaven
Sing the Chorus held for THIS Moment
In the Bosom of the Father –
"Glory to God in the Highest,
And on earth peace, goodwill toward men" (Luke 2:14)
It surrounded and filled them
And moved them to go & seek & find
THE PROMISED ONE
And they would tell of
The Glorious Face
They gazed upon
The Face of the Eternal Father
In His Son
The Face of Peace & Rest
All is calm – all is bright
Sleeping in heavenly peace
Fear bowed its knee
And gave way to
Eternal hope
For the ETERNAL HOPE was breathing softly
Before them
Three wise men came
Bowing
Gifts of reverence & provision
Undone
Keepers of their encounter
They left in secret
In silent, still hush
They had been
Up close to
'I AM'
I wonder
Was the manger aglow
As angels watched & the Father's Gaze
'Silent night – holy night
All is calm – all is bright'
In the stillness
For those whose eyes could see
And ears could suddenly hear
The baby's cry
WAS & IS & FOREVER WILL BE
The Lion's ROAR
Declaring
"The people who walked in darkness have seen a great light; those who dwelt in the land of the shadow of death, Upon them a light has shined"
Isaiah 9:2 NKJV