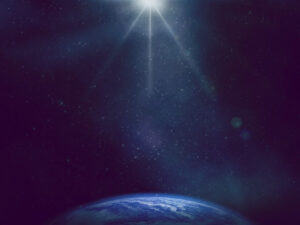 Atmospheres of Heaven
Lupe' King
Glad tidings on this earth is heard
As men and angels join in song
The wait is over!
The Crowned One has joined us
Loosing the joy of heaven
Sprinkled with Eternal Life!
The Giver gives His Gift to us…
His Eternal Self, The selfless gift
Of Love.
O' Did He tell you?
His Name is FOREVERMORE!
As Angel Wings unfurl
Heaven releases Light that
falls upon upturned faces
His Glory is loosed and shines
In Eternal Hope, like His Name,
Angels whisper, "FOREVERMORE."
Holy Hallelujahs echo in the Halls of Heaven,
Shifting atmospheres and stratospheres
in this terrestrial realm.
Colors of the rainbow shift and mix
Creating nimbuses that circle 'round and 'round
in celebration, via the transcendence of Our God.
Thin places are created upon this earthly realm;
Places of sacredness, Places of peace
As Father joyfully shares Himself from
His own Holy overflow!
He is the Eternal Abundance of Himself
Of all created and existing Holy good.
You, who live in the Forever Realm
You have descended from on high to
Grant us all that You Are
And Forevermore will be
Let us join the dance of
Heaven's good tidings and joy
Let us join Heaven
AND CREATE A WAVE!
A wave of unstoppable praise
To the NEWBORN KING!
The Great and
FOREVERMORE EMMANUEL!