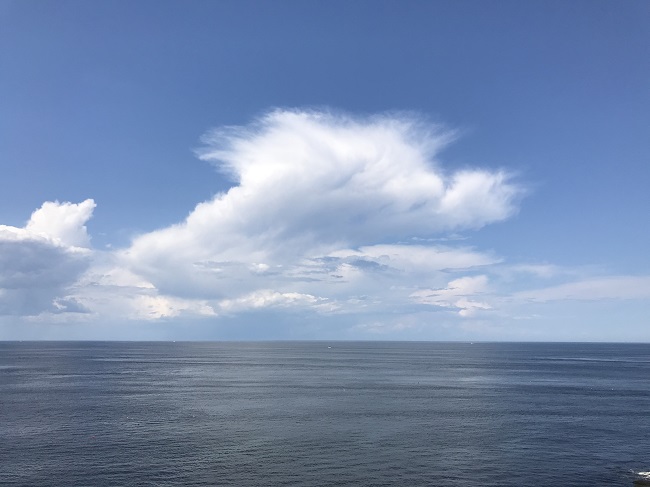 RELEASE OF THE WINDS
Karen Elliott
 
"He makes clouds rise from the ends of the earth, He sends lightning with the rain, and brings out the wind from His storehouses." Ps. 135.7
 
For several months the Lord has been speaking to me the phrase, 'the wind of the Spirit is blowing.' As I have been pondering this and seeking Him for what He is speaking, one particular scripture has remained highlighted in my spirit, and that is the one quoted above from Psalm 135:7.  It is also repeated in Jeremiah 10:13.
 
In the weeks to follow, the Lord would speak to me several things about these winds.
 At first, He spoke about the very familiar scripture in Ezekiel 37:9 about the dry bones.  "Prophesy, son of man, and say to the breath, 'Thus says the Lord God, 'Come from the four winds, O breath. Breathe on these slain that they may live.'"
The word 'breath' here is 'ruah' and denotes, spirit, wind, breath, and can also be courage, and strength.
Verse 10 goes on to say, "So I prophesied as He commanded me, and breath entered them; they came to life and stood up on their feet – a vast army."
 
I believe with my whole heart that the Lord is breathing a fresh breath upon His people that will refresh us, energize us and bring new life to those areas that have grown dormant and that lack life.  I believe He wants to deposit courage and strength for the times ahead.  I believe it's important that we ask Him for this fresh breath of life! I know many have already received it and are walking in it!
 
Then I heard, Joel 3:14, "Multitudes, Multitudes in the Valley of Decision! For the Day of the Lord is near in the Valley of Decision." 
It's almost like He is asking once again, 'choose this day whom you will serve.' I think too much of the church have chosen to serve the world and just don't have the courage to choose to serve God and so have compromised their walk with the Savior. Come back, come back, come back to His heart.
 
We are in a battle, for our lives, for the lives of our loved ones, for our nation and the nations of the world.  We cannot afford to do nothing. We must engage with the Lord and what He is doing. We are His army! He is breathing fresh life into us. Will we posture ourselves to receive it?  I believe that as we do, we will receive it! We must live for and from eternity.
 
'We can no longer fill our time with things that have no eternal value." Greg Crawford, The Breath of God.
 
Then, I was led to Hebrews 1:7 and Psalm 104:4
"Now about the angels He says: "He makes His angels winds, His servants flames of fire."
"He makes the winds His messengers, flames of fire His servants."
 
The 'winds' here are speaking of His angels.
 
I feel the Lord was saying to me here, that He is releasing His angelic hosts to assist us during these turbulent times. We know that His angels are always with us assisting the heirs of salvation, but I do sense that He is releasing a great number of angels from His storehouses. We are not fighting this battle alone.  Those who are with us are more than those who are with them. (2Kings 6:16)
 
Lord, thank You that You are releasing the 'winds' from Your storehouses.  Breathe Your breath upon us anew. Awaken us where we have grown dormant. Bring fresh life to every dry place in us and impart strength, courage and wisdom for the days ahead. We receive Your wind!
 
Let the Voice within the wind arouse your heart.