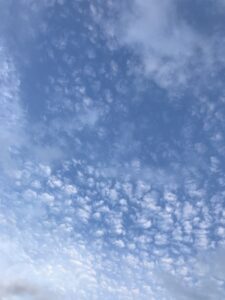 WONDERS
Karen Elliott
I was recently out with friends worshiping and singing praises to our wonderful King and making decrees and declarations over the land.  I always like to have my camera ready because the Lord often shows me supernatural happenings in the natural and I love to capture it on camera if I can.  Oh, that our eyes would be open to see His wonders all around us.
On this particular evening, my attention was drawn to the sky.  What is it that you see in the photo? Perhaps you only see clouds, and that's okay. You could ask the Lord to open the 'eyes of your heart' to see what He may want to show you.
What I see clearly is the host of heaven, and even the great cloud of witnesses peering over the balcony of heaven watching and participating in our praises and declarations.  To me, this is a beautiful confirmation that Heaven is all around us and involved in all we are doing. We are not alone!
My thoughts went to the place we find ourselves as a people, as a nation, as well as the nations all around the world at this moment in history, and how heaven is watching to see how we, as God's people will respond to the chaos and darkness that seems to be flooding the earth, and remembering that we were born for such a time as this. I believe they are active participants with us as we respond from our position of being seated in heavenly places in Christ.
Although we need to have an awareness of what is happening around us in this natural realm, our eyes must be focused on our True source of all, that is The Father, The Son, and the Holy Spirit, and on what He is saying and doing.
Of course, we know this, so let us live it.
Help us Lord, in any area of our lives that we are not living as Your true sons and daughters. Forgive us for living beneath what you gave Your life for.
It is crucial for us, as God's sons and daughters, to live in the reality of the supernatural realm, the eternal realm, remembering that we are spirits first, who have a soul and live in a body.
May this be the way we consciously live. We are in the world but not of it.
Let us live in God's enabling grace and access all Christ bought and paid for on the Cross, that He would receive the reward of His suffering.
In this world we will have tribulation, but be of good cheer, for Christ has overcome the world.
 
Hebrews 12:1-3 "Therefore since we are surrounded by such a great cloud of witnesses, let us through off everything that hinders, and the sin that so easily entangles, and let us run with perseverance the race marked out for us, and let us fix our eyes on Jesus, the author and perfector of our faith, who for the joy set before Him, endured the Cross, scorning it's shame, and sat down at the right hand of the Throne of God. Consider Him who endured such opposition from sinful men so that you do not grow weary or lose heart."