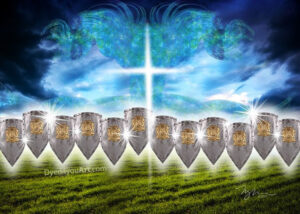 Warfare
Lupe King
In times of war, I seek Your face
Sensing atmospheres, loosing Your Word
In seen and unseen realms…For such a time as this;
I venture via Your Spirit
Into the unseen realms…
spying on the enemy/ies
Of Your throne.
In Spirit, I survey the realm,
One thing is made sure,
Children of God and warriors
Of His cross…We stand in their
way and block their strategies of war
By speaking HIS words of Light and loosing them
In unseen realms, via declarations and decrees,
They seem to not know how to move!
Their strategies confounded,
Their walls come crashing down,
Obstacles created now become their
Own downfall.
We children of God aligned,
With angels and watchmen on the wall,
Battle unified via Jehovah Gibbor, Man of War
Sound and dance is released on this earthly realm
Holy sounds causes us to dance, to sing…REJOICE!
All while dancing on our enemy/ies head/s
Confusion and chaos upon and within the Enemy's camp,
EUROCLYDON winds now blow
In the four directions!
Destruction is loosed via the
Blood of Christ!
Enemies aghast with what was not seen coming;
Angels and men united for such a time as this!
Euroclydon:  A furious, north easterly wind.
"And when the south wind blew softly, supposing that they had obtained their purpose, loosing thence, they sailed close by Crete. But not long after there arose against it a tempestuous wind, call EUROCLYDON . (Acts 27:13-14)