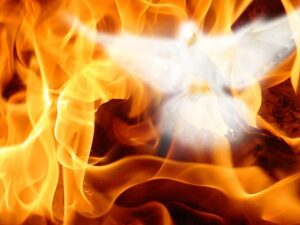 THE HOUR OF HOLY TAKE OVER
Donna Milham
The hour of Galatians 2:20 is upon us – He lives in us and through us –
We plug into His Heavenly Power Connection, and we are empowered from on High.
'For in Him we live and move and have our being" – Acts 17:28 (NAS)
We know and experience Philippians 3:10 reality–
the fellowship of His sufferings and becoming like Him in His Dying –
We arise with Resurrection Life!He breathes His Breath into us – we open our mouths – His Breath comes forth from our mouths as we speak –
Less words – but carried by the Wind of the Spirit and surrounding those who hear –
wrapping them in a blanket of Life and Light!
Penetrating – going in – Light into their spirit man – invading dark places
Deeper and higher – moment to moment in this Way Walk!
Teaching us the mystical lifestyle that JESUS walked.
The Ancient Song, Sound, Word, this is HIM, it is not a thing – it is JESUS – the ANCIENT ONE.
His Desire is to flood us and overwhelm us with His Very Self – The ANCIENT OF DAYS.
Can you hear HIM COMING – COMING – COMING – His Footsteps are at the door –
HE IS KNOCKING – LET ME IN!
HOLY INVASION – HOLY TAKE OVER – BY THE ANCIENT ONE
HOUR OF HOLY TAKEOVER BY HOLY SPIRIT AND HIS FIRE
There is an adorning in each generation
The adorning of this generation is one of LIGHT AND FIRE!
God's Breath comes as a whirlwind and encompasses
the flame within us begins to grow and grow until it overtakes our being
It is His Presence around us – blowing on His Spirit within us –
as we give way to it – we BECOME
Flames of Burning Passionate Fire
The Spirit of Burning – Isaiah 4:4
Revelation Eyes of Fire gaze upon us
HE wants to impart into and to look out from our eyes –
That we would have eyes of fiery love, passion, and compassion
Melting icy hearts with His Gaze of Love!
Galatians 2:20 – "I have been crucified with Christ; and it is no longer I that live, but Christ liveth in me: and that life which I now live in the flesh I live in faith, the faith which is in the Son of God, who loved me, and gave himself up for me" (NAS)
Philippians 3:10 – "that I may know him and the power of his resurrection, and the fellowship of his sufferings, becoming conformed unto his death" (NAS)
Isaiah 4:4 – "When the Lord shall have washed away the filth of the daughters of Zion and shall have purged the blood of Jerusalem from the midst thereof, by the spirit of justice, and by the spirit of burning".  (NAS)