Visit our facebook page

Judah's Roar Church & Worship Center
7:00PM
SCHEDULE OF EVENTS
______________________________________________________________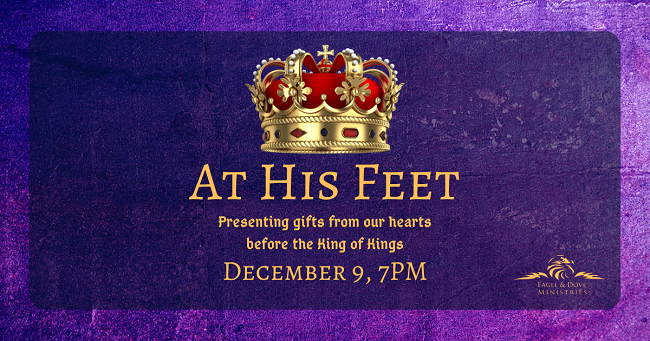 December 9, 2023
At His Feet
This will be an evening to step out of the busyness of the Christmas season and come and worship Jesus. This gathering will give those who attend the opportunity to present an offering of a gift at the Feet of the Lord.
Please pray as to what the Lord would have you offer to Him as a gift of worship – perhaps a song, a poem, a piece from your journal, a painting, a sharing from your heart, a sculpture or calligraphy, a flag or banner, a prayer, a mime, a prophetic word – whatever is on your heart to give to Him.
Christmas is a time of gift giving, may we give the One who gave His life for us, a gift from our hearts to His.
You do not have to offer a gift to attend this gathering, some may desire to come and be blessed by others gifts to the Lord.
We would love to have you join us!

Judah's Roar gatherings have entered into a new season and a new meeting place.
With the closing of Gloucester United Methodist Church where we have been meeting for many years, we will now, for a season be hosting 'home church' gatherings.
We will continue to meet on Saturday evenings at 7pm.
These meetings are open to the public, however we do not post the address.
For location, please call the church phone – 978-290-1180 or email at [email protected]