Visit our facebook page
Judah's Roar Church & Worship Center
436 Washington St., Gloucester, MA

For more information, call Donna Milham at 978-283-9111 or Karen Elliott @ 978-621-6285
March 7, 2020 – America ~ Glory & Destiny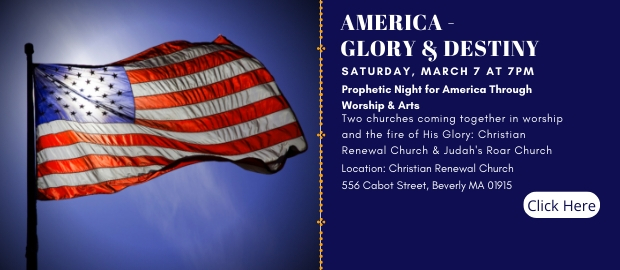 Prophetic Night for America through worship and the arts.

Two churches coming together in worship and the fire of His Glory!
Christian Renewal Church and Judah's Roar Church
Location: Christian Renewal Church, 556 Cabot St., Beverly, MA 01915
at 7PM
March 14, 2020 – No regular Judah's Roar Meeting

We will be joining Kingdom Awakening Ministries at their event with Prophet Charlie Shamp on this night.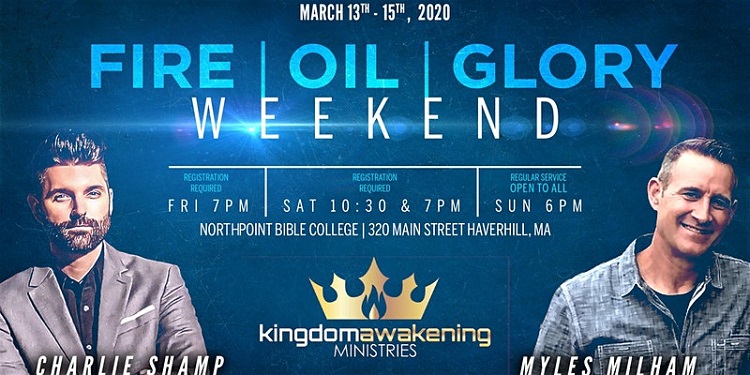 March 21, 2020 – Donna Milham of Eagle & Dove Ministries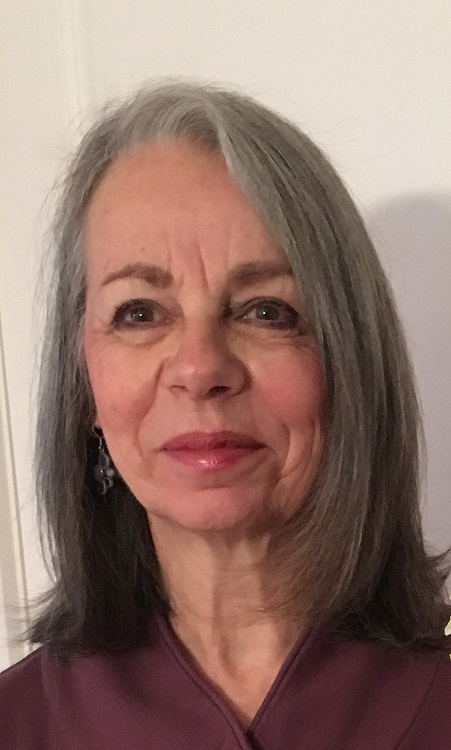 Donna Milham has a passion to truly live a life of holy union with the Lord – to accept and extend His invitation into the intimate places of His Heart – and to share with others the journey of the communing of our hearts and spirits with the Lord. She is a revelatory teacher, always seeking to explore the heights and depths of His Word, seeking to bring forth understanding of the mysteries of His Kingdom. Her desire is for people to know the love of God the Father in an experiential way and to discover their true identity in Christ. She is an author who paints with words what the eyes of her heart see and to bring them forth for others to encounter the realms of His unending love and truth. Donna Milham is founder of Eagle & Dove Ministries and Judah's Roar Church.
This meeting will be at the Gloucester United Methodist Church building at
436 Washington St., Gloucester, MA
March 28, 2020 – Night of Prayer & Praise

Join us Saturday, March 28, at 7pm for a night to sing praises, psalms, hymns and spiritual songs, giving worship to our King! To bring forth the prayers and decrees of His heart into the atmosphere of earth.
"Look carefully then how you walk, not as unwise but as wise, making the best use of the time, because the days are evil. Therefore do not be foolish, but understand what the will of the Lord is.And do not get drunk with wine, for that is debauchery, but be filled with the Spirit, addressing one another in psalms and hymns and spiritual songs, singing and making melody to the Lord with your heart, giving thanks always and for everything to God the Father in the name of our Lord Jesus Christ, submitting to one another out of reverence for Christ." Ephesians 5:15-19
Judah's Roar
(located in the Gloucester United Methodist Church)
436 Washington St.
Gloucester, MA 01930
~~~~~~
Directions to Gloucester United Methodist Church,436 Washington St., Gloucester, MA
Route 128 North to Gloucester – at rotary take 3rd exit off the rotary the sign reads "Route 127 – Annisquam". Drive 1 mile and the Gloucester United Methodist Church is on the left. You can park on either side of the street. Parking lot is for worship team.
Weekly Prayer Meetings
Eagle & Dove Ministries
Weekly Prayer Meetings – Every Monday
"A Call to the Gate"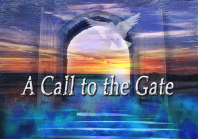 Every Monday, we meet for worship and intercession. We gather together at the mandate of the Lord to press in deeper for this Eastern Gate and this region that His Kingdom purposes will come forth. For those who have an ear to hear this trumpet call and have a heart to respond – we invite you to come and seek His Face and His Heart's Desire in this hour. He has shown us specifically for Eagle & Dove Ministries and Judah's Roar – that we need to lay a deeper foundation of prayer and worship for the next phase of the Worship Center/Church to be able to come forth.
Our weekly gatherings are also to press in to hear from Him the unfolding of His Blueprint for this ministry and how it links with others in this region. The kingdom of God suffers violence and the violent take it by force. God's Eye is on this gate and we are pressing in to lay hold of it, that He will have His Heart's Desire – a Bride pure and spotless, this city, this region – until the hour that we cry – Come Lord Jesus Come!
Time:
Mondays, 9:30am – 12:00 noon (Please feel free to join us for all or part of these meetings).
CALL OR EMAIL FOR LOCATION